by caroline on September 28, 2012
OPENING LINES: No.10
Summer/Fall 2012
with notes on procrastination, and a nod to Oscar Peterson
"As recently as two years ago, when I was twenty-six, I dressed in ratty jeans and a sweatshirt with lettering across the chest."
Carol Shields, Swann, (Stoddart, 1987)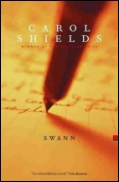 Apart from the usual lazy summer excuses,  I rely on a host of unconvincing reasons for neglecting this website since last spring. My favourite so far has to do with the The New Yorker.  As soon as an issue appears in our snailmailbox,  I grab it, flipping eagerly through its pages on my way upstairs to my writing desk; I chuckle at cartoons, determine resolutely to put the magazine aside and go immediately back to my… but wait, what's this wee snippet here about long line ups to get into 'The Clock' exhibition,  hmm, interesting…watching the clock to get in to 'The Clock'; but now to return to my…oh,  ha ha, too funny, a Shouts and Murmurs send-up of high end summer weddings. I'll just read that one short bit, and then I'll….
Of course it's easy to see where this is going.  By the time I re-surface, the sun is slipping away, and light is fading on one Big Long Article about a Dentist Marathon Man from Montana.
In the sure knowledge that next week's issue is already airborne,  I swivel away from the stack of New Yorkers, and find myself face to face with the chaotic scattering of books and papers on my desk.  There's no avoiding Carol (forgive my presumption); she's right where I left her last May; and next to her, her long time friend Eleanor Wachtel.  Random Illuminations, Eleanor's lovely little volume recording their years of letters and interviews, sits propped open under the weight of my trusty propping-book-open stone.

In one highlighted passage, Carol explains to Eleanor and the audience at Harbourfront, why, of all the novels she's written, Swann remains her favourite.
Here's what Carol shared with her audience :
"My favourite book, I have to say, is Swann. When I wrote that book, I was reading a lot of postmodern criticism, which can be very damaging to a writer, but at the same time it had this effect: it made me realize how accommodating the novel form is. I had written four quite traditional novels, and suddenly it seemed to me that the novel could be much more elastic….a big, baggy thing that I could put anything into, and I did." (p.118 Random Illuminations, Goose Lane Editions, 1987)
Well, imagine my pleasure at reading this! Finally the opening line of Swann lights up, and it's not even the end of September!
My 'blog' [heretofore referred to as a 'riff'**] can now begin.
'As recently as two years ago…' I read on, running my finger along the words, realizing how perfectly this line sets the stage (in so many ways, this novel is staged) for absolutely anything to happen in the next two years. And it does!
I wonder if Carol might have felt a rush of satisfaction at this deceptively simple  sentence from which she hangs a whole feast of literary delectables.  Sarah, the novel's primary narrator, is no longer wearing 'ratty jeans and a sweatshirt with lettering across the chest'.   One more line along, and we learn that Sarah now owns 'six pairs of beautiful shoes' which she wraps in tissue paper when she's not wearing them.
Two years of transformation, a transformation of physical appearance, identity,  innocence, lie between these first and second sentences, and the reader drops right into the wide open spaces of a story about to unfold.
In Swann, Carol Shields takes us on a deliciously wild literary ride; her skill with irony is ever at the ready as she coaxes her reader, over here, no over there; she is playing, stretching her narrative this way and that as she blows the cover off the academic construction of theory, and challenges the critic's measure of what makes 'great' literature.  She entertains with a lively whodunnit,  revealing the willful construction of something that, in the end, isn't there at all.
Swann is a hilarious mystery that turns on itself, a maze through which its characters and its readers (and I suspect Carol herself) must find their way.  The film script at the conclusion of the novel, which she readily admits  doesn't entirely work as a technique, is the staged filming of  an academic symposium in which no-one listens to each other, and in which all integrity, meaning, and comprehension, go up in a puff of self-interest.
As Carol intended, the novel departs from the conventional structure of her previous books; she takes full advantage of the elastic possibilities she identifies as a potential of the novel form. At the same time, her story, for all the elasticity she allows, is skillful and tightly woven.  There is nothing sloppy about this book.  A 'big baggy thing' it is not.  A delightful read, it is.
[**a note from this writer:
I thoroughly dislike the word blog. I will no longer use it. It is too ugly a word for any writer to saddle herself with, landing on the ear as it does, with a deadening thud. A friend agreed, laughing over coffee this week, as she rhymed off a few companion words: slog, clog, bog, hog.  On the other hand, the word 'riff' sounds an evocative and liberating note, one that invites the reader to lift off, and enjoy the journey. The association is with jazz of course.  A word like 'blog' could have blocked/blogged Oscar Peterson from finding his next perfect blue note.  From now on, therefore, I will consider my offerings as 'riffs', never to visit the word #&%@ again. My goal would be to do justice to my new word 'riff'!]