Caroline Shepard's first published book, "Off Centre" (Oberon, 2004), was short-listed for the $10,000 Danuta Gleed Literary Award for short fiction.
"Off Centre by Caroline Shepard was well received by the Jury: "Caroline Shepard writes with great assurance and delicacy, moving seamlessly between Africa and North America in her mapping of unexpected cultural, geographical and emotional territory. These are stories to open our hearts as well as our eyes."  (from The Writers' Union of Canada announcement, 2005)

"Off Centre" was completed with assistance from the Ontario Arts Council.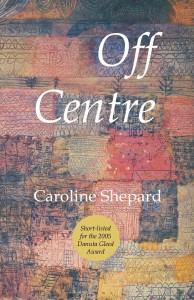 Following is a brief excerpt from 'Shelter From the Storm', which opens the collection, and also forms the basis for Caroline's upcoming novel "Falling Into Place".
 "…. the snow is finally letting up… traffic in both directions is at a standstill. People begin emerging from their cars.  They look up and down the lanes, hoping for some sign of forward movement.  One fellow is joking about running out of gas while parked at the curb. Others are trying to keep warm by jumping from foot to foot, pounding their mitts together, some are smoking, some blowing into cupped hands.  Eventually everyone seems to be laughing and chatting, exchanging cheery snow storm philosophies, how good it is to slow down, take the time, lend a helping hand…."
You may order your copy of "Off Centre" directly from the author.
Off Centre. Oberon Press, 2004.
ISBN-13: 9780778012610 (cloth)
ISBN-13: 9780778012634 (paper)