by caroline on December 5, 2014

'Random Riffs'
unwind without warning from one of life's unexpected moments.
They are posted from time to time, as they unwind.
[the recently retired blog, 'OPENING LINES', is archived here…]
"what's in a cupboard?"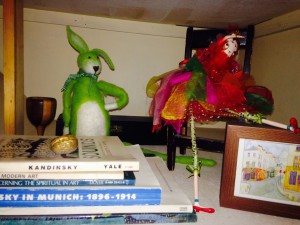 Just prior to the launch of 'Unlit Spaces' last September, I sat at my desk across from the above mentioned random items cupboard, searching for a particular word that was eluding me. My mind wandered, and I found myself pondering the mysteries of self-publishing. I began forming in my mind some spectacularly wise riff about traditional publishing (as in 'Off Centre'), versus self publishing (as in 'Unlit Spaces'). All this thinking was hurting my brain; as an alternative, I snapped a photo of my friends in the cupboard. They were speaking to me. Something about lightening up.
Writing now as I am, from France, where we're visiting and doing our share of cultural lolligagging around monuments and such like, I am hearing random voices from my past, emanating from a cupboard across the pond. Let me introduce you.
To begin, one golden walnut, a hard nut to crack I'm told. It's not mine, it doesn't even belong in the cupboard. Its presence is therefore most random indeed. I suppose it is waiting in some mysterious state of becoming appropriate to its rightful owner.
The hard to crack golden walnut sits on my treasured collection of books by and about Wassily Kandinsky and Paul Klee.
At the Paris museum of modern art last week, we found those two creative heroes of mine, along with a visual presentation of Der Blaue Reiter movement, whose founding artists (Kandinsky in the lead), in the early 20th century, shared a common desire to express spiritual truths through their art.
Not far from my treasured volumes, is a flamboyantly wild lady of the night. She seems forever about to slip off, for obvious reasons, the doll's chair crafted by my great grandfather Kennedy for my mother's doll, sometime in the 1920's. My mother would have loved this naughty lady of the night! I imagine her red slippers (not my mother's), one of which is perched atop a small watercolour of the streets of Montmartre, dancing away the night. In Paris perhaps, but possibly down in the Byword Market in Ottawa, where she hangs out with ScareBear (inside joke) and that green bunny behind her in the cupboard.
At the back of the cupboard is a small chest with a brass latch, also crafted by my great grandfather Kennedy. It contains the sweetest penciled drawings and messages that were playfully given to my mother by her grandmother. This great grandmother of mine has drawn by hand, tiny paper dolls, coloured and cut out clothes for them with paper tabs that bend over each doll, dressing them perfectly in a perfect granny style.
Finally, you will notice the small wooden wine goblet. It was crafted by a special friend who is still creating his fine wares at age ninety, in a place of seaside magic known as Bay Fortune.
chin chin!