by caroline on December 2, 2011
OPENING LINES: Riff No.7
December 2011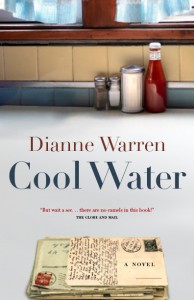 "Just east of Juliet, there's a little
campground known to the locals as Ghost Creek, even though there has never been a ghost sighting that anyone can recall."
(Opening Line, Chapter Two)


Dianne Warren, 'Cool Water' 2010
Governor General's Literary Award
Before launching into my reason for quoting the opening line from Cool Water's second chapter, rather than its first,  a brief note of wild enthusiasm!
I  loved this novel.
When I finished reading Cool Water,  I closed it slowly, reluctant to press such a fascinating journey back between its covers. Of course, the best of literature, like the best of all art, is not confined to enclosures.
For days after, I found myself glancing at  the book's front cover illustration, and reflecting, as I watered plants or folded laundry, on the image of  the Oasis Cafe, pictured here, with its classic diner style line-up of ketchup, salt and pepper, flip cap sugar dispenser.
A stack of tell tale letters from the past.
I can still hear the clatter of plates, the chatter of those cafe patrons. I see the comings and goings, catch the intersecting stories, the memories and histories now set adrift in the shifting ground of the Canadian prairies.
From what feels like an almost mystical, all knowing distance, Dianne Warren shines light on each  unique character; they seem to leap off  the page, befriending the reader with intimate glimpses into minds and hearts and souls at key points in the narrative.
Warren achieves this distance from the intimate details of her story,  by drawing, in the form of cowboy rides decades apart, a spiritual circle, a spiral perhaps, around  the very roots of life in the small town of Juliette. The two horses, their two riders, are exquisitely haunting and provide a thematic cohesiveness. At no point, however, do they suggest  a resolution of crisis for the inhabitants of Juliette. Quite the contrary, they simply reinforce the mystery of life always in flux.
It's a truism that one of the trickiest moments for a novelist, is to recognize an ending, and then write it. Is that the last stroke of my brush? The final note of my composition? The end sentence of my story?  Dianne Warren has got it right in Cool Water.  I struggle to find words for what she has left us with, but there is energy at the end of this novel. The energy of the mystery perhaps. And of redemptive human capacity.
As I said, I loved this novel.
And now, I think all I have to say regarding Opening Lines, is that Chapter One might more suitably have been called a prologue. It is the story of the first, the historical, cowboy ride, a race that foretells the death of a way of life on the prairies. In a sense, it is the ghost referred to in the opening line to Chapter Two, quoted above, which begins the present day story. I found myself referring back to Chapter One, the prologue, understanding its significance more and more as I read.